Playtime or snack time? Grabbing a bite is extra fab with ELLE, snack on the go while having ball
Fun ball-shaped snack container that toddlers can independently use at snack time.
Stylish and instinctive - the soft patterned outer layer is easily held by little hands while inner crumb cover/portion control allows toddlers to feed themselves with less mess.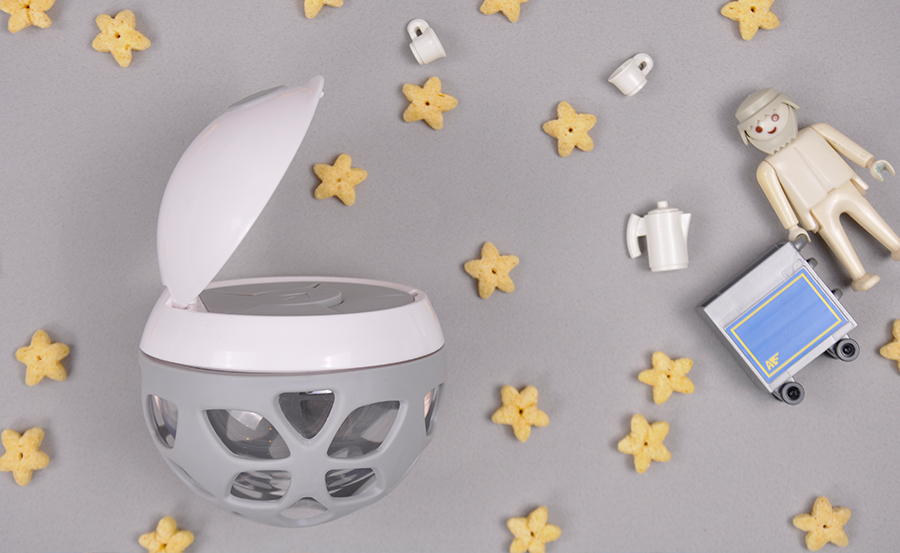 Designed for small hands!
Small holes fit small fingers perfectly, ELLE encourages toddlers to practice gripping and interact with their objects. Carry ELLE around all day. A new toy? A container for my snacks? A new buddy!
Lid flips opens 90 degrees
Easy to open but also secure, ELLE is made for rough and tumble toddler life. Ball shape creates sound and movement.
Crumb cover for motor learning
New updated design with a see-through crumb cover provides portion control and helps keep snacks inside. Use with or without! The ELLE snackball crumb cover can be removed for faster snacking.
Product Details
Recommended for all ages
Textured logo on lid adds grip when flipping lid open
Secure flip up outer lid and optional inner crumb cover helps prevents crumbs inside mom's purse
Snack ball inner container is premium BPA free crystal clear Eastman Tritan.
Available in: mustard, teal, rose, elephant, army, sunset, purple
Product Dimensions: 94 (H) x 95 (W) x 95 (D) mm / 3.70" (H) x 3.74" (W) x 3.74" (D)
Product weight: Approx. 100g