Fun table setting for parents and toddlers
NANA is training tableware for toddlers who are able to poke food and wish to feed themselves with intent. With a mixed palette and iconic shapes NANA brings joy to mealtimes.
Chubby yet mini sized cutlery designed to grow with toddlers as they develop from the pincer grip early stages into the side grip of the adult cutlery holding method. Easy to grab silicone chubby handles are soft and tactile.
NANA set comes in a reusable storage pack
use with ESSIE universal strap to keep NANA off the floor!
NANA fork squiggle tines are designed for noodles and pasta.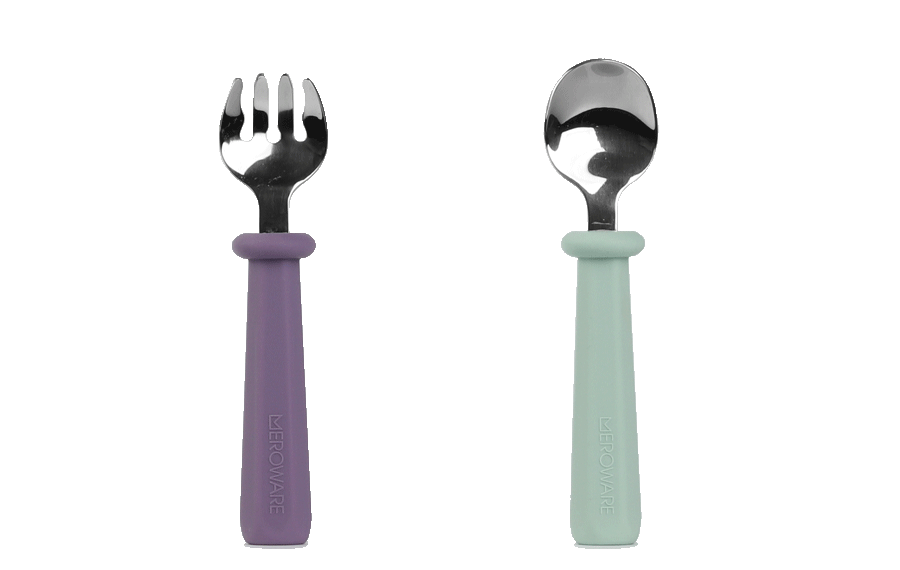 Sturdy stainless steel circle shaped spoon head allows eating from any holding angle.
An innovative handle rest keeps the spoon and fork heads raised from the table top.
Product Details
Recommended for 1 year+

Soft silicone chubby handles with an innovative rest that keeps the spoon and fork heads raised from the table top.

Sturdy circle spoon head allows eating at any angle, squiggle tined fork easily picks up noodles.

Designed to grow with toddlers as they develop from a pincher grip into side grip.

Comes in a reusable storage pack.

Available In: Mojito + Purple, Milk Tea + Dusty Rose

Product Dimensions: 142 X 33 X 19 mm

Product Weight: fork - 44.9g, spoon - 48.8g